Welcome
Office Hours:
Monday: 9:00AM to 5:00PM
Tuesday: 9:00AM to 5:00PM
Wednesday: Closed
Thursday: 9:00AM to 5:00PM
Friday: Closed
Saturday: Closed
Sunday: Closed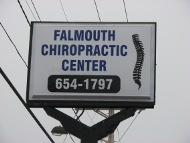 Thanks for stopping by Falmouth Chiropractic Center your one-stop shop for learning what chiropractic is and what it can do for you.
Our practice treats a variety of conditions from chronic low back pain and neck pain to rehabilitation following an accident or injury.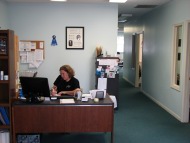 Our mission at Falmouth Chiropractic Center is to provide affordable, high-quality care to people of all ages. We strive to not only correct a person's health problems, but to educate and enlighten people so that they do not encounter similar problems in the future.
Rehabilitation
At the Falmouth Chiropractic Center along with chiropractic care we have both passive and active procedures and exercises available. A complete circuit of strengthening and stretching equipment is available and utilized under the orders of the treating chiropractor. Although manual hands on adjustments are our offices primary type of treatment we also include active and passive modalities when needed. Available is passive modalities including Electronic Muscle Stimulation, Ultrasound, Hot and Cold therapies, Traction and massage therapy.
| | | |
| --- | --- | --- |
| Exercise Equipment | Treatment Room | Massage Room |
---
Location
We are located on US 27 between Marathon and the car wash.
Jason Luking D.C. and Bryan Walther D.C. have owned the office since 2007. They purchased the office of Pete Fullwood D.C. from his family in 2007. If you were a patient of Dr Fullwood our office most likely has your old record and we welcome you as patients.
Falmouth Chiropractic Center
Jason W. Luking, D.C.
Bryan Walther, D.C.
941 Ridgeway Avenue
Falmouth, KY 41040
PHONE: 859-654-1797
FAX: 859-654-3990
---
Our Staff
Dr. Jason W. Luking
Dr. Jason Luking is married to Dr. Rebecca Luking. They both attended Georgetown College. Dr. Luking graduated from Palmer College of Chiropractic in 2000. He treated patients in Virginia and Ohio while his wife attended medical school and completed residency. Dr. Luking and his wife consult daily on difficult cases and treat together many patients with musculoskeletal problems.
He currently holds licenses in Kentucky, Ohio and Virginia. He has been trained to perform needle EMG and NCV examinations since 2004 and Peer review since 2008.
---
Dr. Bryan Walther
Dr. Bryan Walther, has been a licensed Kentucky chiropractor since 2008. He has had training in Electrodiagnostics and is available to perform Needle EMG/NCV examinations. In 2008 he also completed the process to be a Peer review chiropractor in the state of Kentucky.
Dr. Walther received his bachelor's degree from the State University of New York, College at Buffalo in 1994.
---
Complement to Chiropractic Care
Complementary Health Care
Therapeutic massage is an age-old remedy, which has proven to be an effective complement to chiropractic care. Both are holistic in nature, and are based on belief in the innate healing power of the body. Together, chiropractic and massage facilitate the natural healing process by keeping the body in proper alignment and ensuring a free flow of nerve impulses and circulation of fluids.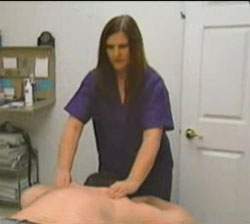 Problems in the musculo-skeletal system can impede the natural healing process, and often cause dysfunction and pain. Most chiropractic doctors would agree that it is important to treat soft tissues such as muscles and tendons to help prevent and correct subluxations, and lessen the accompanying pain. Together, chiropractic and massage provide you with a more complete and effective system of health care.
Therapeutic Massage
Increases the effectiveness of chiropractic treatments
Aids in preparing the body for chiropractic adjustments
Helps relieve pain in muscles and related soft tissues
Helps prevent future problems
Benefits of Massage
The therapeutic effects of massage are recognized by personal and clinical experience, and supported by scientific research. They include:
General relaxation
Improved circulation
Muscle relaxation
Alleviation of certain kinds of muscular pain
Improvement in cellular nutrition
Relief from the negative effects of stress
Reduction of anxiety
Massage and Adjustments
Local massage is often used in preparation for an adjustment. Massage relieves muscle tension and warms up the soft tissues in the area, making joints more pliable and more easily adjusted. Many chiropractors themselves (or an assistant) prepare an area with local massage.
A general massage (1/2 to 1 hour long) can also be good preparation for an adjustment. In addition to preparing the immediate area of concern, it helps you relax overall and become more receptive to other hands-on treatment.
Some find massage after an adjustment beneficial for further relaxation. With regular therapeutic massage, chiropractic adjustments may last longer.
Relaxation massage therapy is also available at our office independent of chiropractic care.
---
Types of Payment Accepted
Visa/Mastercard. Cash plans are available with payment plans if needed.
Emergency/After Hours Information
In case of an emergency, we can be reached at 859-654-1797. This will be forwarded to a mobile phone. If there is no answer, you may leave a message and your call will be returned promptly.
Insurance/Managed Care
Plans Accepted
Blue Cross/Blue Shield/Anthem
Humana/Choicecare
Aetna Medicare Medicaid Wausa
United Health Care/ACN
KY and OH Workers Compensation
Bluegrass Family Health
Cigna PHCS American Specialty Health
Auto Insurance
---
Links of Interest
---
Do you have comments or questions? Use the form below to contact the Falmouth Chiropractic Center.

NAME:

*

EMAIL:

*

PHONE: (No Hyphens):

*

PREFERRED CONTACT: *

Phone: Email:
Comments:

*

Are you human? Spam block test.
*Please answer the following before clicking SEND:


What is 2 + 3?


5 7 9